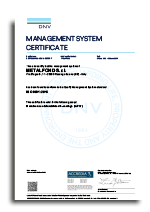 Metalfond S.r.l. has invested in human, technical and productive resources to best meet the qualitative demands of the market.

It then obtained Quality System certification according to norm UNI EN ISO 9001:2015 from the well-known institute "DET NORSKE VERITAS".

The validity of such certificate can be checked on the DNV website.